Aesthetics Naturals Cosmetic Sets. Multiple Options Available.
Aesthetics Retinol 2.5% High Potency Anti-Aging Cream (1.7 Fl. Oz.)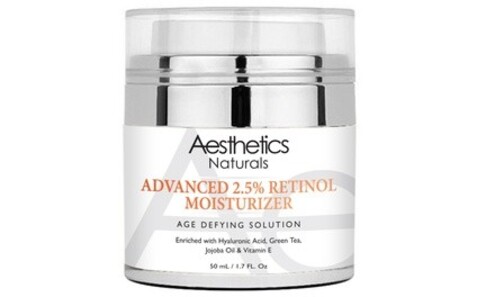 Aesthetics Naturals Skin Care Bundles. Multiple Options Available. Aesthetics Retinol 2.5% High Potency Anti-Aging Cream Benefits Hydrated and healthy skin Provides protection against aging Evens out skin tone Contains 2.5% of retinol Enriched with hyaluronic acid, green tea, jojoba oil, and vitamin E Active Ingredients Jojoba oil, hyaluronic acid, and shea butter help skin look and feel hydrated and supple Green tea, Vitamin A, and Vitamin E supply skin with antioxidants Retinol decreases blemishes and clears skin Directions Wash and towel dry face. Apply to the face, neck, and décolletage. Gently massage into your skin with circular upward motions. Can be used morning and night. Use regularly for best results. Vitamin C Moisturizer Benefits Designed to even out skin tone and nourish it with Vitamin C Formulated with green tea, aloe vera, and vitamin E Helps to keep the skin hydrated Aids with fighting visible signs of aging Vitamin C Serum Benefits Formulated with Vitamin C, argan oil and hyaluronic acid Helps reduce the appearance of wrinkles and sun spots Can be added to daily skin routine Bonus Eye Gel Benefits Promotes eliminating fine lines, dark circles, and puffiness Designed to minimize visible signs of aging in the eye area Enriched with hyaluronic acid, collagen, and vitamin E Directions Recommended use: daily, two times a day, morning and evening Hyaluronic Serum Benefits Anti-aging formula with Vitamin E, Vitamin C, and Hyaluronic Acid Promotes fine lines reduction Helps smoothen and plump the skin Retinol serum Benefits Designed to improve skin's elasticity Aids in reducing fine lines Anti-wrinkle formula with Vitamin A, Vitamin E, and Hyaluronic Acid Helps achieve a smooth complexion Specifics Size: Moisturizer: 1.7 Fl. Oz. Serum: 1 Fl. Oz. Vitamin C Moisturizer: 1.75 Fl. Oz. Eye Gel: 1.1 Fl. Oz. Ingredients for each option Skincare Buying Guide Understand what kinds of products best suit your individual skin type. For post-purchase inquiries, please contact customer support. View the Goods FAQ to learn more.